Be the first to know when registration opens.
IN³ is an educational event for small business owners, direct sellers or anyone working independently (full time or on the side) in the Washington DC Metro/Northern Virginia area. If you are looking for inspiration and practical ways of improving your performance and increasing your sales, this is the event for you. Build your network and your bottom line and remember...you may be independent but you're not alone. Take the next step and join us on Saturday, September 23, 2017. Session presenters featured below.
INtentional Actions: Up Your Five! 
Rita Goodroe, Founder of Women's Business Garden 


Master the concept of "Upping Your Five" and attract all of the people, resources and opportunities you need to achieve any goal you set.  Earn how to connect with mentors, make choices calculated to move your life forward and lay the foundation for success.  Want to make money, enjoy freedom and leave a legacy?  Up Your Five!
INvesting in Yourself: The One Simple Step That Can Increase Your Revenue Effortlessly
Lisa Shaughnessy, Principal, inkerB Consulting


Every day that you don't have business processes in place is costing you real dollars. Spending extra hours a week redoing tasks or fixing preventable mistakes takes time away from gaining and retaining customers, and can equate to losing 1,000s of dollars per week – and potentially a tarnished reputation! Written processes are the foundation your small business needs to become the success of your visions. In this presentation you'll learn how processes will:
Make sure you complete each step the right way to prevent costly mistakes.
Improve and streamline your business operations to drive growth and revenue.
Allow you to easily train team members so you can delegate tasks.
Nvesting in Yourself: Money $trategy
Bess Terril, Owner, Be Well Bookkeeping


Bess's passion is giving attorneys, consultants, and small business owners more time to do what they love. She examines the nitty gritty of your company's every transaction, every bill, every Income Statement so you don't have to. Then distill's these to the bare-bones vital information you need to grow your business. Bess will be talking about the best strategy for your money. How much to pay yourself, how much to put back into the company, when do I need to report to the IRS, what types of write off's can I take and so much more. We will guide part of this presentation based on feedback from our FB event page, so if you have a burning question we will definitely touch base on it!
What our attendees are saying about IN³:
"IN³ by The Next Steps was a phenomenal training and networking event! The positive attitude and excitement from everyone in attendance really energized the room for great discussions and networking between tables. The presenters were all fabulous and I had so many great take-aways. I am looking forward to the next event!" Allyson L., Realtor
"IN³ rocked my socks!! I went in thinking I might pick up one or two things, but it would probably be information I'd already heard before... Boy was I wrong! I learned so much in only a few short hours and I made new friends. The value for the price you pay is incredible!" ~Becky S., Independent Damsel Pro
"As an educator, professional development is an expectation and is provided regularly. In the direct sales world, regular trainings are offered through the regional teams and corporate office. But as an entrepreneur who is completely on her own starting a business, it's up to me to take responsibility for my training and growth. IN³ was just what I needed! It allowed me to network with other small business owners and receive valuable training that is relevant to my needs. I'm excited for the next IN³ event and look forward to learning and growing more with the help of The Next Steps, LLC." ~Melissa, S., Owner, Creations by MJ, LLC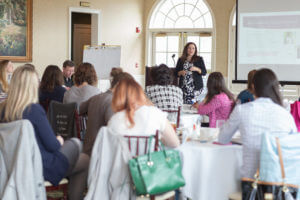 "I found a lot of value in attending IN³. The organizers did a fantastic job with the layout. Having attendees move to different tables to discuss prompted business subjects was a wonderful way to encourage bonding with other attendees by helping and being helped on the subject matter. The speakers were great and having those breaks to interact at the different tables made the timing of the event flow. The food was delicious and getting an updated headshot is a lasting benefit of attending." Marcia Sheehan, Founder, Charmed Cardinals
"This was my first direct sales training conference I have been too that was not run by my company, and I loved it! Hearing people from other companies and talking about how they work their business was very helpful. I also loved the ability to network with local entrepreneurs. Sincerely took a lot away from this conference that I plan to incorporate into my own business!" ~Gina D., Team Leader/Wine Guide, Traveling Vineyard
Some of our past sessions INclude:
INtentional Actions: With all the to-dos and demands you're already juggling, what new challenges are really worth your time--and how much of it? In this hands-on workshop, a certified life coach will help you establish what priorities make the most sense for you right now and create an action plan that balances working towards your fulfilling future with appreciating and enjoying the life you already have.
INfluence Your Network: Growing your network and establishing a brand is critical to the success of any business. It takes time. It takes effort. And it takes a level of consistency. It doesn't matter where you are in your business or how big your current network is, there are things you can do right now to INfluence Your Network and drive sales. This session will introduce you to the importance of making lasting and real connections, growing your community, and being true to your voice.
INvest in YOU: This session will delve into investing in yourself! What is your WANT and WHY? Are you wanting to turn your side business into a full time gig? Do you want to increase your team or sales? Then this session is for you.